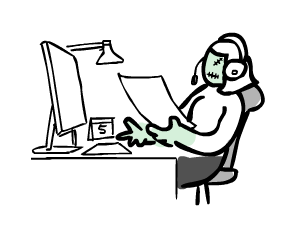 Another zombie alert! I came across some more the other day while attending a meeting at a corporation office. Not only was their customer service "zombie-fied", one of them even looked a little like a zombie.
I'm referring to employees who act like zombies while doing their jobs: No emotion or personality, working like a robot, little interaction with customers, can scare you with just a look, etc.
Entering the corporation's office – a mid-size retail corporation – the first thing you come upon is a large and attractive reception desk and waiting area. Physically, this area had all the trappings you want to impress potential clients and investors: spacious, bright, modern, well kept, and designed. And it's quite common and fundamental knowledge that this area must be staffed with a matching person…at least one with a matching attitude and demeanor.
However, the receptionist attending this area was the total opposite of the physical space: gruff, unapproachable, cold, and impersonal. She was young and dressed well enough, but had dark circles under her eyes, a slouchy posture, and poor disposition. When I approached the counter, she merely looked up at me: no comment, greeting or smile, she just waited for me to speak. When I stated my name and business, she said, "Your name?", even though I had just given it. I told her again, and she called my party as I stood there. After she hung up, she said, "Wait over there," and pointed to the chairs in the waiting area.
Very unwelcoming…and a very poor first impression of this corporation. Because I was early, I had to sit and wait about 15 minutes. During this time, I watched similar activity with another guest and even with several employees. And it wasn't just the receptionist…the other employees who came in and out did not speak to her or vice versa. Two employees talked with her about projects in process (she was stuffing envelopes) and all had similar demeanors: no smiles or personality.
My first impression of this corporation was the total lack of a service culture. The staff seemed to be unaware of basic customer service (read: courtesy) to outsiders OR insiders. It appears to me that this corporation did not stress the importance of providing quality service to all. I respect that this was just one visit, and maybe it was a backup receptionist, but still. ANYONE who sits in that seat is the face of the company and the company should hire and utilize employees who fit this important position. It's true: this might be the lowest-paid job, but it's certainly NOT the least important one. It could be argued that this is one of THE most important jobs.
It will be interesting for me to visit their retail outlet and see if the same "zombie" attitude is apparent at the point of sale for this company. I hope not, for their future growth and success.
It's important to stress, at all levels of the company, a culture of service and concern for customers. This culture of caring for customers must come from the top down. Not only is it good business, it's just plain good manners.
Do you have zombies in your company???
Share your thoughts on our blog here or Facebook page.
Learn how to make your company a leader in customer service – contact Shoppers, Inc. for more information on Service Quality Institute programs.
For more information contact Amy at Amy@InsightYouCanUse.com or 800-259-8551 x220
Don't forget to follow us on Facebook, Twitter, YouTube, and Linked In