Seems like lately, I've mostly run into what I call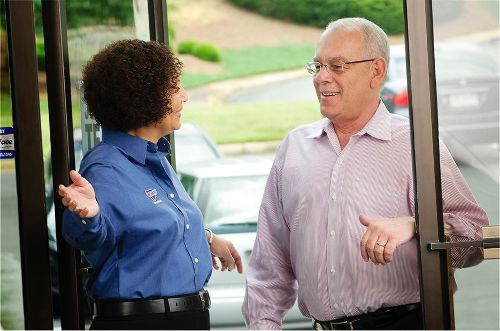 "zombies" of customer service. You know what I mean, those employees who are like the walking dead: no smile, no concern for customers, just going through the motions of their job with no pride or customer relations. I call them zombies or zeroes. They aren't doing their companies any favors. In fact, they are probably repelling customers, making them feel unappreciated and wanting to take their business – and money – to someplace who does want them.
However, recently I found a place with the perfect example of a great employee…unbelievably, a shoe store in a local outlet mall. It's a smallish store that carries name-brand shoes for men and women such as Nike, Merrell, Hush Puppies, etc. One of those where they display the shoes on top of a shelf, then you dig through the boxes below to see if they have your size. I've been in the store before and it was unexceptional: not bad service but not great either. And somewhat frustrating to have to dig through piles of boxes – in no particular order – to find your style and size.
But on my last visit, I found a HERO of customer service.
When we entered the store, the young man greeted us within one minute, even though he was in the middle of the store helping another customer. This guy was on top of his game in every way. He greeted customers as they entered, offered help if they were near him, and made conversation with everyone. He seemed to magically "appear" right next to me if I started looking for a size or even just bent over to see sizes and styles. He was fast and knowledgeable, finding the style and size quickly and telling a bit about the shoe as he did.
And it wasn't just me…there were five other customers in the store and he seemed to flitter back and forth among us all, talking, smiling, laughing all while finding and pulling shoe sizes. I have to say, it was amazing! I'd love to have a video of him as the perfect example of a customer service hero.
He seemed to enjoy working with people and helping them in any way. He also did a great job of adding on items and promoting specials. They had a "Buy One, Get One 1/2 Off" special that day and everyone I saw was not only buying 2 pairs of shoes but extras like cleaner, inserts, etc. I believe that many of the extra purchases were due to his abilities. It wasn't just sales…it was talking to your customers, getting familiar with their needs and problems, then providing products and solutions for them. When we, as customers, find what we need with a comfort level like this, we are not afraid to Buy! Buy! Buy!
This is how service should be…when you go to a store to spend $100 or more on one pair of shoes, you hope – actually, expect – the staff to be helpful, friendly, and appreciate your business. But you rarely find this type of employee. Companies need to encourage and reward this behavior and they will see a direct impact on the bottom line. I hope this shoe store hero is appreciated by his employers. If he's not, I'm sure he will be successful in his other endeavors because he obviously knows how to take care of customers.
By Kathy Shook
Share your thoughts on our blog here or Facebook page.
Learn how to make your company a leader in customer service – contact Shoppers, Inc. for more information on Service Quality Institute programs.
For more information contact Amy at Amy@InsightYouCanUse.com or 800-259-8551 x220
Don't forget to follow us on Facebook, Twitter, YouTube, and Linked In