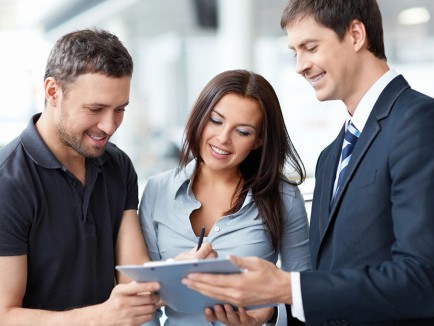 We are working on our Service Improvement Plan – our SIP; in order to make our customer service outshine everyone. To exceed our customers' expectations the first time and every time, so they become FANS of our company and rave about us to all their friends and family.
Before we did anything, we made a plan. We don't want to throw money at the problem before we know the following:
How does our service quality rate today?
How good should it be?
How do we get from #1 to #2?
We've surveyed customers and employees and have that data readily available to analyze. We've determined what we do right and also what frustrators in our procedures that kept our customers unhappy.
Step 3: How do we succeed?
What we do right: Since we now know what things make our customers happy, what they like about it, let's emphasize it:
Communicate the positive feedback to our staff
Take advantage of what we do better than competitors: Brag about it!
Improve our staff's skills at these items and reward these behaviors
What we do that frustrates customers: With the feedback we obtained earlier, we know what they don't like.
Streamline procedures to work in favor of speed and service
Communicate to staff; encourage their ideas and participation
Improve our staff's skills so the frustrators are removed
On both issues above, the key item is IMPROVE OUR STAFF SKILLS. Provide the customer service training they need so everyone's skills are excellent. We all assume that everyone knows to smile, greet and thank. But they don't…TELL them what we expect. This gives staff the support needed to show our full, serious commitment to improving customer service.
And, don't forget to practice what you preach. Great customer service is for EVERYONE; not just outside or "external" customers. Teach your staff to provide great service to each other, too. Start calling co-workers "internal" customers: so everyone is positive and helpful to each other. You'll be amazed and the attitude improvement and teamwork that evolves. And that will lead to better service outside…which will lead to customers SELLING for you: they'll tell their friends how great you are!!
by Kathy Shook
Share your thoughts on our blog here or Facebook page.
Learn how to make your company a leader in customer service – contact Shoppers, Inc. at 800-259-8551 for more information on Service Quality Institute programs.
Don't forget to follow us on Facebook, Twitter, YouTube, Linked In, Google Plus, and Pinterst
There are numerous of repute online pharmacies. But few aren't licensed in the United States. It is easy for men to buy medicaments online. How can you do this? Albeit erectile disfunction is more common among older men, that doesn't make it 'normal'. In our generation variant articles were published about levitra 20 mg. What is the most considerable information you have to study about "levitra 10 mg"? Varied pharmacies describe it as "levitra 10mg". Mostly when slightly goes wrong with your sexual health, it can influence your sex being as well as your overall well-being. If you choose to purchase remedies like Viagra online, always get a written formula before do it. Do not use any preparation without telling your physician if you going to become pregnant during treatment.