Happy Employees Mean Happy Customers
We just had to share the article below from John Tschohl, "Happy Employees Mean Happy Customers".  Enjoy!
Ensuring an efficient and quality customer service takes a great deal of training and coordination. Focusing on each department in your company to make it a smoothly operating machine takes not only focus on the customer but on the employee themselves.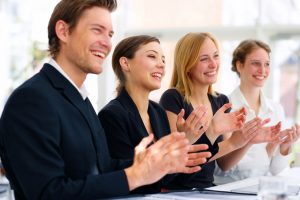 When customers become friends instead of antagonists of an informed service, a job is far more pleasant for an employee than a clock-watching job that is so boring it is hard to get up in the morning.  Providing training and constant communication to employees is the kind of job that employees try to keep.
When employees are "in the know" about company objectives and programs, they identify with them. They are motivated to promote company interests if communications to them stress their value in achieving objectives.
Treat employees as if they have a need to know how the company is faring in customer satisfaction.  Actually, they do have a need to know.  They're the ones who bear primary responsibility for providing service that satisfies customers.
When a workforce is highly motivated, turnover and recruitment problems tend to solve themselves.  If you regularly reinforce motivation, you end up with more experienced employees who deliver better service.
Once employees are delivering quality service, you will have a powerful restraint on turnover. When employees are "empowered", the boss's real role is to serve the employee, and the purpose of the employee becomes to serve the customer.
Happy employees mean happy customers. Giving your employees something to focus on for their future, and the tools to do so, is what will keep your customers happy and employee turnover low.
John Tschohl, the internationally recognized service strategist, is founder and president of the Service Quality Institute in Minneapolis, Minnesota. Described by USA Today, Time, and Entrepreneur as a "customer service guru," he has written several books on customer service and has developed more than 26 customer-service training programs that have been distributed throughout the world. John's monthly strategic newsletter is available online.
Share your thoughts on our blog here or Facebook page.
Employee Satisfaction Surveys
Employee satisfaction surveys provide insight into how employees experience and perceive your corporate culture, work environment, benefits, and career opportunities. While many companies believe an employee survey simply provides an outlet for complaints, the survey actually provides beneficial information about customer satisfaction and service.
For more information click here: https://www.insightyoucanuse.com/employee-surveys/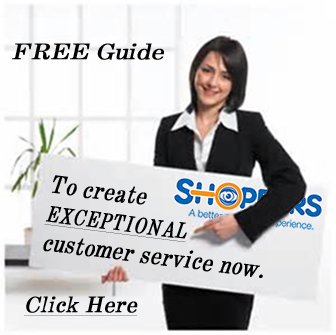 Download our free Customer Service Assessment tool here to make sure you aren't losing customers due to poor service quality.
Learn how to make your company a leader in customer service – contact Shoppers, Inc. for more information on Service Quality Institute programs.
For more information contact Amy at Amy@InsightYouCanUse.com or 800-259-8551 x220
Don't forget to follow us on Facebook, Twitter, YouTube, and Linked In